CV
Publications
Working Papers
Teaching
Media Coverage
Email: kmm7999@psu.edu
Welcome!
I am an Assistant Professor of Political Science and Social Data Analytics at Penn State University. I got my PhD in Politics at NYU, where I was a member of the Social Media and Political Participation Lab. I recently started a blog discussing social science methodology, political communication theory and the practice of culture and politics --- and how the internet has changed each of them. Take a look!
Never Met a Science: Kevin's New Blog
Here's a "Mind Map" of my research so far, organized into four main sections.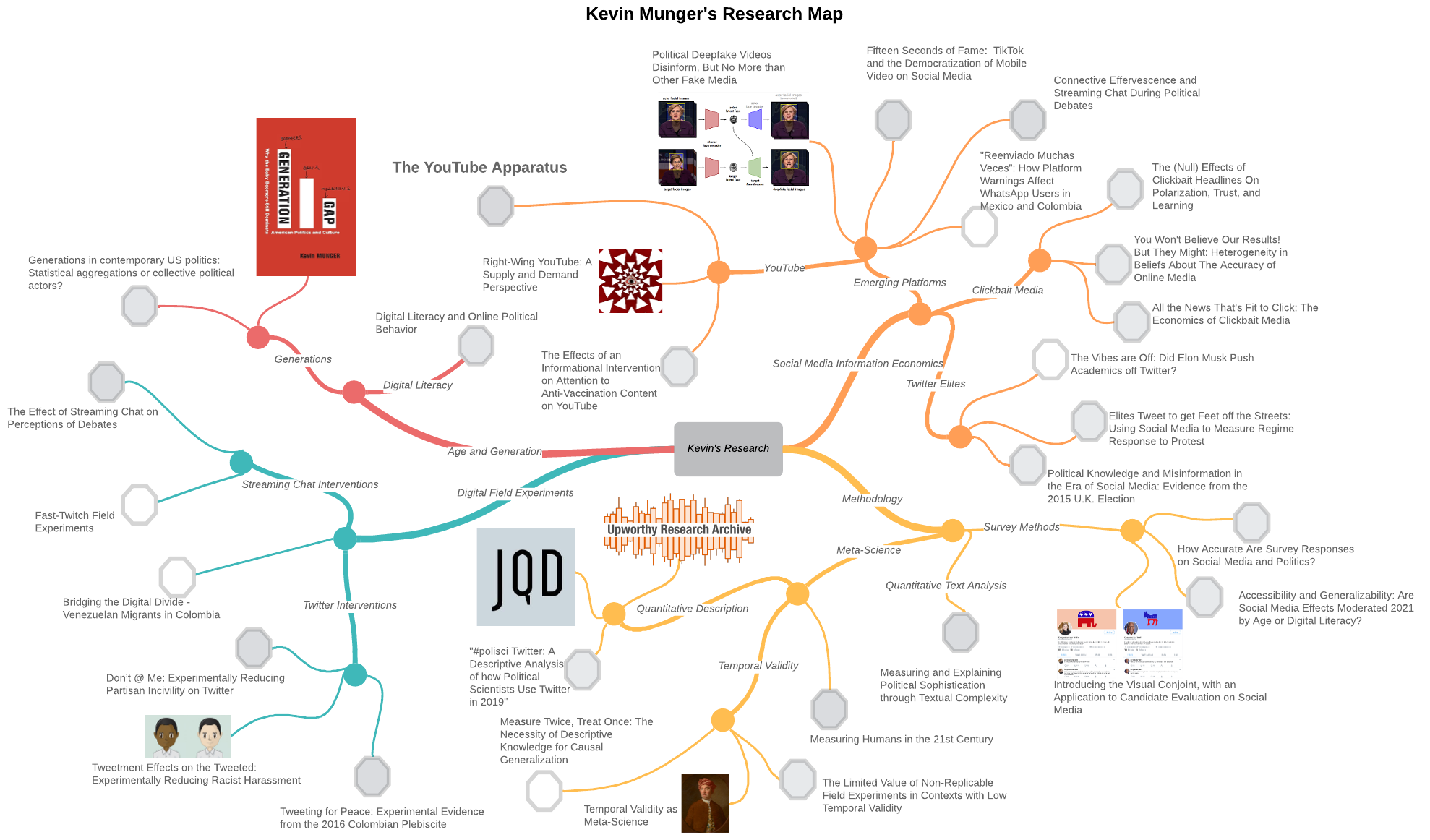 Book Project: Boomer Ballast and Generational Conflict in US Politics
My book is under contract with Columbia University Press, expected publication in Fall 2021. The aging American population presents a number of novel problems for our society and politics. In the 2030 off-cycle election, 40% of the electorate is projected to be over 65 years old. A growing cultural divide and zero-sum economic competition between the two largest generational cohorts–Millennials and Baby Boomers—will come to define electoral politics in the 2020s. My book will explore the historical trends that led us here, map descriptive trends in age among elected officials, and present novel experimental evidence for the increasing role of age in vote choice and the emergence of "cohort consciousness" as a novel form of political identity.
"Generations in contemporary US politics: Statistical aggregations or collective political actors?" , co-authored with Eric Plutzer, is a working paper that presents novel survey evidence of the latter claim, which the book will explore in more detail.
Temporal Validity Project
Temporal Validity for Political Science updated July 2021
Temporal Validity for Philosophy of Science (with Adam Lovett)
Peer-Reviewed Publications
"The Upworthy Research Archive: A Time Series of 32,488 Experiments in U.S. Advocacy" (with J. Nathan Matias, Marianne Aubin Le Quere, and Charles Ebersole). Nature: Scientific Data, 2021
"Meaningful measures of human society in the twenty-first century" (with David Lazer, Eszter Hargittai, Deen Freelon, Sandra Gonzalez-Bailon, Katherine Ognyanova and Jason Radford ). Nature, 2021
"Connective Effervescence and Streaming Chat During Political Debates" (with Katherine McCabe, Tiago Ventura and Keng-Chi Chang). Journal of Quantitative Description: Digital Media, 2021
"You Won't Believe Our Results! But They Might: Heterogeneity in Beliefs About The Accuracy of Online Media" (with Jonathan Nagler, Joshua Tucker and Mario Luca). Journal of Experimental Political Science, 2021
"Accessibility and Generalizability: Are Social Media Effects Moderated by Age or Digital Literacy?" (with Jonathan Nagler, Joshua Tucker and Ishita Gopal). Research & Politics , 2021
"Political Knowledge and Misinformation in the Era of Social Media: Evidence from the 2015 U.K. Election" (with Patrick Egan, Jonathan Nagler, Jonathan Ronen and Joshua Tucker) British Journal of Political Science, 2020
"\#polisci Twitter: A Descriptive Analysis of how Political Scientists 2020 Use Twitter in 2019" (with Jim Bisbee and Jennifer Larson) Perspectives on Politics, 2020
"Right-Wing YouTube: A Supply and Demand Perspective" (with Joseph Phillips) International Journal of Press/Politics, 2020
"All the News That's Fit to Click: The Economics of Clickbait Media." Political Communication, 2020
"Experimentally Reducing Partisan Incivility on Twitter" Journal of Experimental Political Science, 2020
"The (Null) Effect of Clickbait" (with Jonathan Nagler, Joshua Tucker and Mario Luca). Public Opinion Quarterly, 2020
"Tweeting for Peace: Experimental Evidence from the 2016 Colombian Plebiscite" (with Jorge Gallego, Juan D. Martinez y Mateo Vasquez). Electoral Studies, 2019
"Tweetment Effects on the Tweeted: An Experiment to Decrease Online Harassment". Political Behavior, 2017, Volume 39, Issue 3. APSA EPVOB award for Best Paper published in Political Behavior in 2017
"Elites Tweet to Get Feet Off the Streets: Measuring Regime Response to Protest Using Social Media" (with Richard Bonneau, Jonathan Nagler and Joshua Tucker). Political Science Research & Methods 1-20.
"Measuring and Explaining Political Sophistication Through Textual Complexity" (with Arthur Spirling and Ken Benoit). American Journal of Political Science, 2019, 63.2: 491 - 508.
Replication Materials 'sophistication' R package
"How Accurate Are Survey Responses on Social Media and Politics?" (with Andrew Guess, Jonathan Nagler and Joshua Tucker). Political Communication ,2019
"Choosing in Groups: Analytical Politics Revisited" (with Michael C. Munger). Cambridge University Press, 2015.
Other Academic Publications
"Quantitative Description of Digital Media" (with Eszter Hargittai and Andrew Guess). Journal of Quantitative Description: Digital Media, 2021
"The Dumbing Down of the State of the Union? Trends in the Complexity of Political Communication" (with Arthur Spirling and Ken Benoit). In Can American Govern Itself? (ed. Nolan McCarty and Frances Lee), Cambridge University Press
"Social Media, Political Science and Democracy". Journal of Politics, 2019.
"The Limited Value of Non-Replicable Field Experiments in Contexts with Low Temporal Validity". Social Media + Society, 2019.
Recent Popular Press
The Rise and Fall of the Palo Alto Consensus The New York Times, July 2019
Opinion: Millennials Wanting To Overhaul America Need To Come To Terms With Boomer Power Buzzfeed News, May 2019
Teaching
I have taught several semesters of Introduction to Data Science, using both R and Python, as well a course on Text as Data. Course materials are located on my github, and are free for anyone to use, either for teaching or learning.
Slides and RMarkdown files for a summer Intro to Data Science course I taught at Universidad de Rosario
Jupyter notebooks for Intro to Data Science
Course materials for Fall 2021 can be found here:
Advanced undergraduate course in Text as Data
PhD Seminar in Media, Social Media and Politics
Course materials for Fall 2019 can be found here:
Advanced undergraduate course in Text as Data
PhD Seminar in Media, Social Media and Politics
Selected Media Coverage
YouTube is awash with election misinformation — and it isn't taking it down Vox, November 2020
Why the Trump campaign is going all-in on YouTube Vox, November 2020
That annoying barrage of political texts? It's only going to get worse, Florida Bradenton Herald, October 2020
Maybe It's Not YouTube's Algorithm That Radicalizes People Wired, November 2019
How the Cambridge Analytica scandal unravelled Vox, October 2019
Old, Online, And Fed On Lies: How An Aging Population Will Reshape The Internet BuzzFeed News, April 2019
How Norms Change The New Yorker, October 2017
Bots aren't just service tools—they're a whole new form of media Quartz, April 2017
Twitter bots can fight racism — if they're white and popular Vice News, December 2016
Telling People to Be Less Racist Online Works, Sometimes New York Magazine, November 2016
Racist tweeters can be convinced to stop spreading hate—if a white man asks them to Quartz, November 2016
Twitter bots can reduce racist slurs—if people think the bots are white Ars Technica, November 2016
Why Online Allies Matter in Fighting Harassment The Atlantic, November 2016
Stop Playing Defense on Hate Crimes Time, November 2016
Troll hunters: the Twitterbots that fight against online abuse New Scientist, August 2016
Popular Press
How Everything on the Internet Became ClickbaitThe Outline, May 2018
Old people can't open new tabs and it's fueling our descent into hellThe Outline, May 2018
The Widest Generation Gap in History is Between Baby Boomers and MillennialsThe Outline, March 2018
Influence? In this economy? The Outline, Feb 2018
Are presidential writings getting dumber? We checked — and were surprised. The Washington Post, April 2017
This researcher programmed bots to fight racism on Twitter. It worked. The Washington Post, November 2016
Social media, #Immigration, and political knowledge in #Ukelection2015 The Washington Post, May 2015
Why Tyrants and Despots Love Social Media Newsweek, July 2015